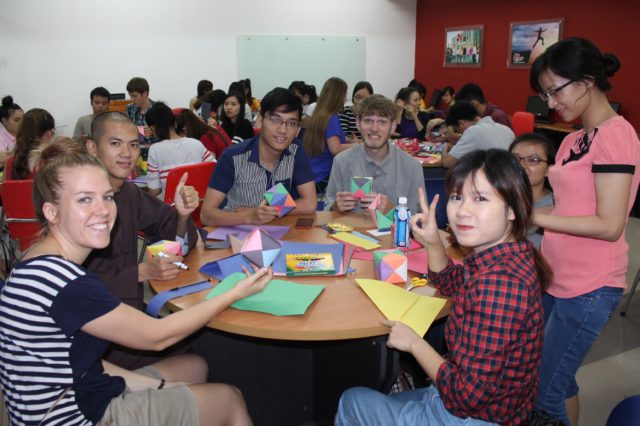 "All right everyone, listen up! You have one minute to read the following game instructions in silence (no talking) and then we'll collect them."
What followed was semi-organized chaos. We participants didn't realize that each table was given a different set of rules. I found this out when, of four players at my table, I came in last and had to change tables. You can imagine the shock I felt when the trump card I used to win at the previous table was suddenly the worst card! How could this be?! I thought we were all playing the same game!
Ah, but that was the point. Not knowing the rules gave us a taste of what it feels like encountering a new culture.
But getting a taste of what cross-cultural life is like is only part of short-term missions orientation training. You learn about setting proper expectations, how to relate and work with your team, how to fundraise, and being commissioned to go advance the Kingdom of God.
Expectations
Setting proper expectations for your trip is not an easy thing to do. I had big plans to change the world but God also wanted to grow me individually. The reality is God will do as much as (if not more) in your life as he will through your life. Putting on the attitude of a learner serves as a key ingredient. Being a learner helps you:
adapt to your new surroundings and environment.
relate to and love your teammates.
listen to your receivers on how to relate to locals.
listen to God's voice in the midst of new circumstances.
learn phrases in a new language.
learn how to share the gospel in a way that makes sense to the culture.
Teamwork
Relating with your teammates may not seem important. But those friendships make a big impact on your overseas experience and personal development. Thus, before arriving at the orientation we did a Myers-Briggs Type Indicator personality test. While personality tests may seem irrelevant to missions, understanding yourself and your teammates' preferences and personalities will prove vitally important on the field. As Jesus said, "By this everyone will know that you are my disciples, if you love one another" (John 13:35). How can you love your teammates well if you don't know them? You can't. Jesus' words still apply. The way you relate to and interact with your teammates will be a witness wherever you go—and in some places will leave a greater impact than your personal interactions with locals. So good missions training will provide time and space for you to get to know your teammates in a variety of settings.
Cultural adaptation
My short-term missions orientation training provided practical tips that helped me understand a new culture. Good missions training teaches you about differences in concepts of time, worldview, values, and tips on how to adapt and adjust. This came in handy in Japan, where I learned that being on time meant being there ten minutes early. I learned to adapt my schedule to honor and respect my new Japanese friends. Short-term missions orientation interactive exercises help make these concepts real, giving you a picture of what it's like. The way the rules changed in the card game at my orientation gave me insight into my real-life experiences in Japan, that I often wouldn't know what to expect.
Commissioning
One of the greatest benefits of my missions trip orientation training was spending time among like-minded people and being sent by them. I needed to know I wasn't going alone and that I had the backing of a mission organization. My training taught me that if I had questions or concerns there were people I could contact who wanted to help me. And while it could have been lost amid all the content, commissioning at the end of the orientation refocused us on the task at hand—advancing the good news of Jesus and his kingdom into the nations. Just as Jesus commissioned his disciples to go and spread the good news to all people (Matthew 28:18-20), so we were sent. The leaders prayed over us, blessed us, and sent us out (commissioned us) to all corners of the globe.
Short-term missions training isn't all fun and games, but the orientation can give you a taste of what to expect. While my short-term orientation overwhelmed me at times, it was worth it—and better prepared me to deal with the unknown.